Lionel Cesaire Jr.
Executive VP of Sales and Marketing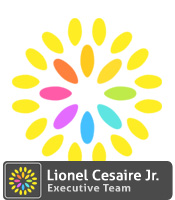 As the Executive Vice President of Sales and Marketing Lionel Cesaire provides a wealth of experience to the Lumaxa team as one of the top network marketing professionals in the country. Lionel has enjoyed much success as a network marketing professional, building organizations into the tens of thousands. He is a man of foresight, vision and a good work ethic. Lionel's progressive career track has been filled with many successful endeavors and countless accolades. Possessing extensive experience leading and inspiring award-winning teams, Lionel's vision has led to a spectrum of awards. With an entrepreneurial spirit and dynamic leadership, Lionel is driven to achieve business objectives, enable organizational effectiveness, advance corporate culture, and foster high-performing teams. He has solved the challenge of creating a system that will accommodate individual brands while maintaining the integrity of a master brand.
Outside of Lumaxa, Lionel is a dedicated father of three and sees Lumaxa as a legacy that he can pass on to them and their grandchildren. Lionel is a valuable asset to Lumaxa and all the Lumaxa ILEs.